Cloning usually means producing one thing of the same kind using complex biotechnological and genetic engineering. Before 2 to 3 decades the thing that looked like a dream to many was done in reality when dolly was cloned successfully in 1996. After that, there has been no stopping in the process of cloning, despite getting various road blocks due to ethical and legal hindrance new methods and techniques has been developing to make the maximum use of the process. Among the most potent technique is the method of therapeutic cloning which is done by SCNT (somatic cell nuclear transfer). This method of cloning has many uses like organ regeneration, cancer treatment, etc.
PROCEDURE OF THERAPEUTIC CLONING:
The process of SCNT and reproductive cloning are mostly the same and are done with the following steps-
First, the host oocyte is arrested at metaphase II and the immobilization is done through light suction exerted by a pipette tip.
A glass needle is used to take out a small piece of the zona pellucida and is reinserted through the puncture to extract the polar body and the oocyte nuclei.
Then the incorporation of the somatic cell into the enucleated oocyte can be done by two methods, one is through electrofusion (application of using electric impulses to incorporate mammalian cell into oocyte) and the other method is through injecting somatic nucleus into the perivitelline space (fluid-filled space between the zona pellucida and ooplasm).
After which mitosis occurs up to the formation of the blastocyst (a fluid-filled hollow balls of 40 -150 cells) to which the required embryoblast or the inner cell mass is attached.
The nt-ESC is then taken and under special conditions using specific cell markers and growth hormones the cell is differentiated into different tissues or organs required for therapeutic purposes.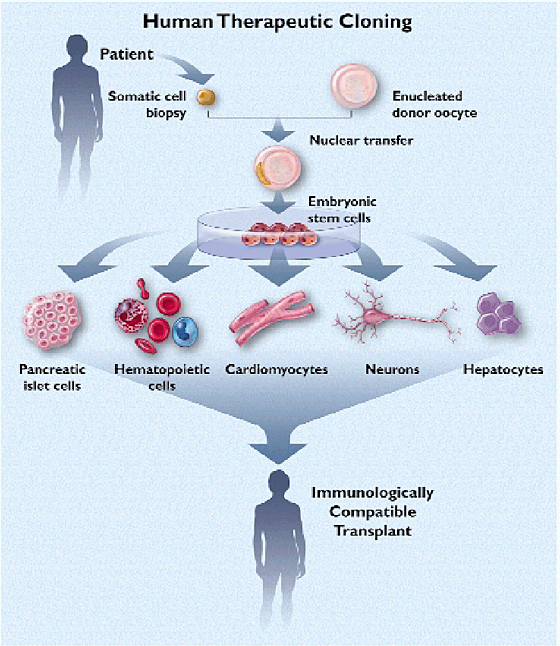 THERAPEUTIC CLONING APPLICATIONS:
Therapeutic cloning has proved to be a milestone in the 21st century. It has a variety of uses and applications which are described below
Used to create an animal model of human diseases for further studies and developments.
Used to make cells, tissues, and organs through regenerative therapy which is of high usage. In near future, this process may also allow total invitro organogenesis.
Therapeutic cloning when combined with gene therapy offers rescue for patients with loss of various proteins which helps to eliminate problems related to a genetic mutation.
 Therapeutic cloning used as cell replacement therapy for many cells like osteocytes for osteoporosis, spinal cord regeneration for neuro problems, etc.
Motor cell regeneration by the process can help patients with paralysis.
Using the famous D 'amour at el technique of stage protocol the stem cells are used to form the endocrine glands which secrete hormones like insulin and glucagon and is a cure for patients with diabetes mellitus.
Also in recent breakthroughs complete in vitro organogenesis can be used to form the pancreas and other important organs for an individual. Also diseases like Parkinson's and Alzheimer's when used to treat through regenerative medicine therapy the patients saw improvement in their symptoms.
The therapy is also used to study different types and properties of cancer that can happen to a human on animals. Animal modes of human disease can be generated and used to study their effect on primates. By the study, it can also be predicted that if cancer arises by a genetic or epigenetic defect.
ROADBLOCKS FOR THERAPEUTIC CLONING
    1.Legal and funding problems have led to the slowing of the research in stem cells the budget required is not being fulfilled by the government. Although it is not completely banned in most countries federal funding is not permitted in the country.
    2. A major setback in the research of therapeutic cloning is the lack of oocytes. As the efficiency for this process is low hence high numbers of oocytes (380) are required to observe a patient-specific ntESC line. Oocyte donations are mostly forbidden and bear the heavy cost which cannot be bearded by the research institute. Also, there are many risks related to surgical removal of oocytes and require the usage of many drugs which can cause complications. The main source of oocytes are fertility clinics, but fertility clinics have aged oocytes which has very fewer success rates when compared with fresh ones.
Interestingly there might be some solutions to this problem. Like Nagy and Chang offered artificial gametes can be created by haploidisation, through SCNT into an enucleated oocyte ready to undergo meiosis when induced. Also, another solution is by using ovary of other species like (pigs, rats, frogs).but both these processes have their limitations like in artificial gametogenesis the success rate is very less whereas when deriving eggs from other species the hybrid forming 16 celled stages is very rare.
OTHER PROBLEMS RELATED TO THERAPEUTIC CLONING
Mitochondrial heteroplasmy- immune rejection is a major problem in cell replacement therapy which occurs due to mitochondrial heteroplasmy since the nuclear doner and ooplasmic host cells are not autologous in most cases. This is also a major cause of SCNT embryo in viability beyond the eighth cell stage as the mitochondrial – nucleus interaction necessary for the production of mitochondrial proteins is disrupted due to interspecies incompatibility.
Risk of transfer of animal containments- the interspecies transmission of pathogens is for sure an important issue when a human nucleus is being transferred to another species like pigs or rats. For example, PERV (porcine endogenous retrovirus) although silent in pigs but disrupts the transcription initiation of genes in humans.
 Ethical problems-as the source of embryonic stem cells are most of the time aborted and unutilized zygotes stirs ethical and moral controversies. As the embryos are to be born kids and hence have very high moral status and to use it for the experimental purpose brings ethical debates and discussions.
With so many problems and roadblocks to be dealt with the future of therapeutic cloning is in the midst of darkness and light. But its benefits are altogether a different story. Due to its miraculous potency, it should be considered as one of the topmost things in medical science research. As shown by many researchers that therapeutic cloning is the only key for many untreatable diseases. Still, the road ahead is tough, and to get the total benefits of therapeutic cloning proper funding should be provided so that intensive research can be done.
National Human Genome Research Institute(NIH), established in 1989, is working in this field in collaboration with the scientific and medical communities to catalyze genomic breakthroughs and supports the robust study and treatment of specific diseases.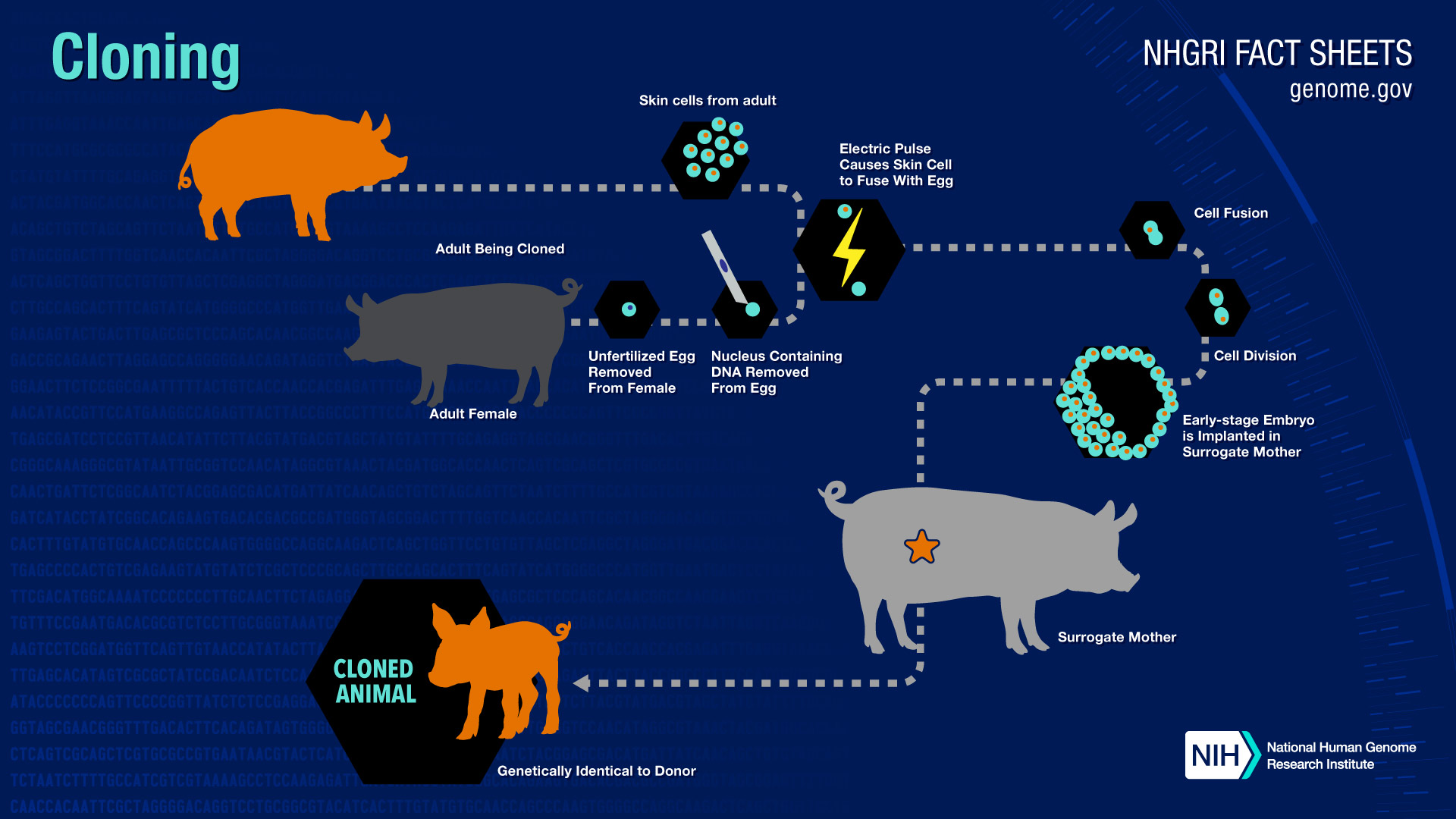 REFERENCES
Center for Genetics and Society. Canadian Parliament Approves the "Assisted Human Reproduction Act, "A Model of Responsible Policy. http://www.genetics-and-society.org/policies/other/canada.html.
Liang P, Jin LH, Liang T, Liu EZ, Zhao SG. Human neural stem cells promote corticospinal axons regeneration and synapse reformation in injured spinal cord of rats. Chin Med J (Engl) 2006 Aug 20;119(16):1331–8. 
Novak K. Therapeutic cloning gives silenced genes a second voice. Nat Med. 2004 Oct;10(10):100. [PubMed] [Google Scholar]
Illmensee K, Levanduski M, Zavos PM. Evaluation of the embryonic preimplantation potential of human adult somatic cells via an embryo interspecies bioassay using bovine oocytes. Fertil Steril. 2006 Apr;85(Suppl 1):1248–60. [PubMed] [Google Scholar]
Pattinson SD. University of Sheffield, Sheffield Institute of Biotechnological Law and Ethics (SIBLE). Some problems challenging the UK's Human Fertilisation and Embryology Authority. Med Law. 2005 Jun;24(2):391–401. [PubMed] [Google Scholar]
Roberts PC, Lowe C. Where have all the conceptions gone? Lancet. 1975:498–499. [Google Scholar]
Meissner A, Jaenisch R. Generation of nuclear transfer-derived pluripotent ES cells from cloned Cdx2-deficient blastocysts. Nature. 2006 Jan 12;439(7073):212–5. [PubMed] [Google Scholar]
Martin MJ, Muotri A, Gage F, Varki A. Glycobiology Research and Training Center and Department Human embryonic stem cells express an immunogenic nonhuman sialic acid. Nat Med. 2005 Feb;11(2):22