By Lalit Koundaal
It's time to pat DRDO's back.
Starting from the pre-design of Astra Mark 1 in 2006 with four cruciform short-span long-chord wings, VL-SRSAM was test-fired successfully on 22 Feb 2021 at 1.28 PM from Launch Pad-3 of DRDO's Integrated Test Range (ITR), Chandipur in Balasore. The test involved two VL-SRSAM missiles to check the efficacy of the vertical launch system and maximum/minimum range of the missile for the Navy. VL-SRSAM comes with additional jet vane driven Thrust Vector Control (TVC) to facilitate quick reaction vertical launch from naval platforms.
VL-SRSAM, Vertical Launch- Short Range Surface to Air Missile, to write more elaborately is slated to be produced for Navy & IAF both. VL-SRSAM is meant for neutralizing various aerial threats at close range including sea-skimming targets. Sea skimming is a technique many anti-ship missiles and some fighter or strike aircraft used to avoid radar, infrared detection to lower the probability of being shot down during their approach to the target. VL-SRSAM's capability to counter sea-skimming targets is a feature that reckons this weapon at a higher level. Just imagine the anti-ship missiles, trying to fly as low as 50 meters (150 ft) or below and allowing only about 25 to 60 seconds of warning for the counter-attack. That's insane!!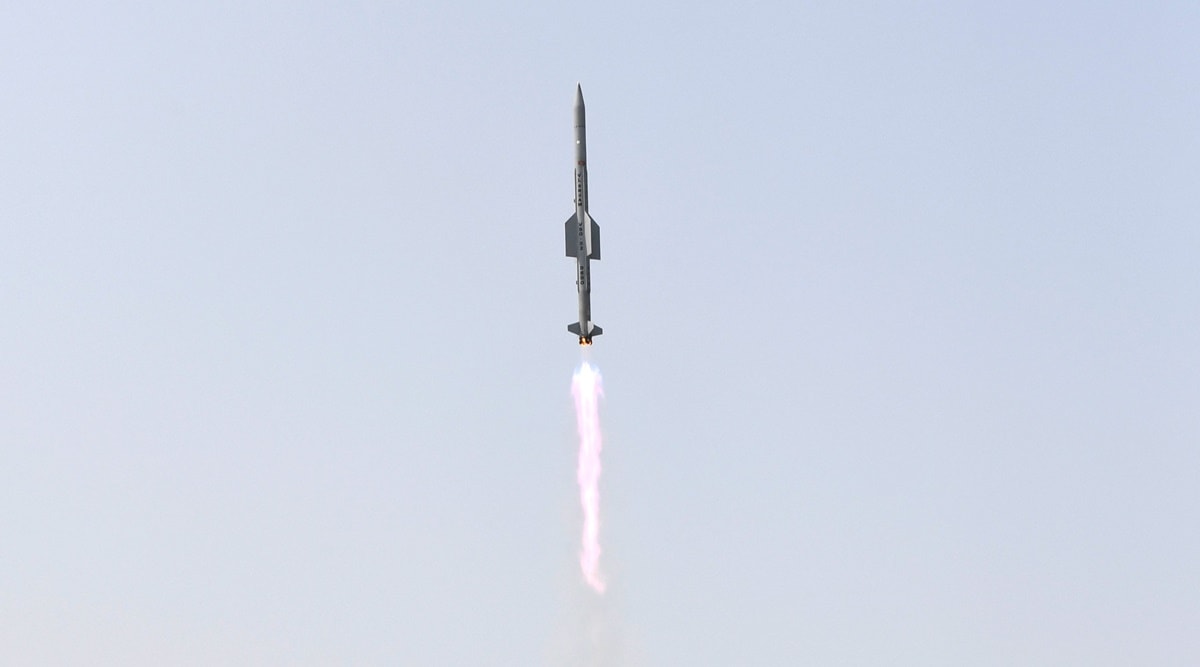 VL-SRSAM acts as a single-point solution that includes missile and the weapon control system (WCS) to destroy threats from different ranges with 360 deg interception capability. It is intended to replace the older Barak-1 surface-to-air missile system onboard Indian Navy warships which were procured from Israel. The missiles in Barak-1 are mounted in an eight-cell module (container) and are launched straight up. On 23 Dec 2013, Indian Defense Acquisition Council (DAC) headed by Defense Minister AK Antony cleared the second-order of 262 Barak-1 missiles from ₹ 880 Cr.
WHO MADE IT?
Defence Research and Development Laboratory (DRDL), Research & Development Establishment (Engineers), and Research Centre Imarat (RCI) were involved in the design and development of VL-SRSAM.
VL-SRSAM superseded the cancelled Maitri Missile project undertaken jointly by MBDA, a European developer and manufacturer of missiles, and Defence Research & Development Organization (DRDO) based on the work done on MICA and Trishul missiles. In 2003, Defence Minister George Fernandes had indicated the use of the Trishul missile as a technological demonstrator. Later, on 27 Feb 2008 Trishul Missile project got officially shelved.
LOOKING BACK
All the missile development that we hear about now very often, is a part of the Integrated Guided Missile Development Programme (IGMDP) which was conceptualized in the 1980s. DRDL was named the nodal agency, which by then had developed competence and expertise in the fields of propulsion, navigation, and manufacture of aerospace materials based on Soviet Rocketry Technologies. Much like the licensed manufacturing of fighter aircraft with the help of Soviet transfer of technology (ToT) accords at Hindustan Aeronautics Limited.
Dr. Abdul Kalam was inducted as DRDL Director in 1983 to conceive this idea and spearhead the project. Accordingly, four projects were born under IGMDP-
PRITHVI – Short range surface-to surface missile
TRISHUL – Short range low-level surface-to-air missile
AKASH – Medium range surface-to-air missile
NAG – 3rd Generation Anti-tank missile
WHO ARE THE USERS?
As mentioned earlier, VL-SRSAM will be developed in two variants for Air Force and Indian Navy. The air force will get high mobility Truck-mounted canister-based VL-SRSAM and the Navy will get Canister-based VL-SRSAM for its frontline warships. Each Vertical Launch Unit (VLU) would house 8 VL-SRSAMs. The canisters are designed to launch missiles in hot-mode, i.e. ignition within the canister itself. VL-SRSAM is a quick reaction point defence system for use against supersonic sea-skimming targets like Anti-ship missiles etc including aircraft, UAVs, munitions, etc. While DRDO is silent on the missile range, but capabilities of a similar missile system should ensure at least 40-50 km in Astra Mk1 configuration, and in future Astra Mk2, range will jump to 80km.
VL-SRSAM family will consist of Truck Mounted command and control unit which includes a Radar sensor and 4-6 missile firing units and replenishments support truck for the Air force variant. The air force is looking for the version which can be transported by C-130 or IL-76 as & when required. In the Navy, VL-SRSAM will be integrated with the main & Secondary Radar system of the warship for tracking & detection.
CONCLUSION
The deployment of VL-SRSAM would prove out to be a force multiplier for the Indian Navy. The present trials have enhanced the effectiveness of the weapon system and as per DRDO's press release, few more trials will be conducted shortly before deployment on Indian Naval ships. Slowly but steadily, India is inching toward self-reliance to be able to protect her frontiers. Defence production is a sector where self-reliance comes after many years of toiling, the mountain of expenses, and sometimes the outcomes are zero or near zero. Heavy reliance on the Transfer of Technology (ToT) did help the country in developing the insight and getting hang of the technological advancements, but full-throttle advancement is difficult to achieve under the ToT umbrella. Much like ISRO, it's now DRDO proving their commitment to strengthen the defence forces of India. Wishing them many more successful launches!!
Sources:
https://www.quora.com/q/defencenews/FUTURE-STRIKE-First-look-at-new-VL-SRSAM-launch-system-for-Indian-Navy-by-DRDO
www.drdo.gov.in
https://en.wikipedia.org/wiki/VL-SRSAM
https://www.thehindu.com/sci-tech/science/drdo-successfully-launches-vl-srsam-twice/article33906926.ece