Advertising is making its imprint in space just as paid human spaceflights are set to commence. According to Business Insider, a Canadian company called Geometric Energy Corporation (GEC) has partnered with Elon Musk's SpaceX to launch advertisements into space on a small satellite carried by the Falcon 9 rocket.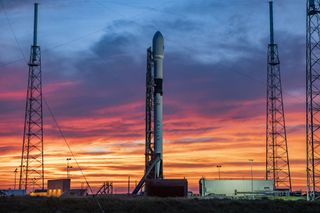 However, instead of a traditional billboard, the ads will be displayed on a pixelated display screen on a CubeSat satellite.
GEC, established in Calgary, is a conglomerate that combines intellectual property, production, and logistics. Geometric Space, GeometricLabs, Geometric Medical, and Geometric Gaming are the company's subsidiaries, and they invent and manufacture goods and services for private and public sector customers.
During the epidemic, the company claims to have provided "ethically sourced" nitrile gloves to universities in Canada and the United States, as well as producing a solid-state Sodium-Ion battery.
CubeSat integration is another area in which the company excels. CubeSats are commercially produced tiny spacecraft made from mass-produced components.
CubeSats can be constructed on demand and launched from a variety of platforms, weighing little more than 660 pounds (300 kg). GEC aims to exploit its CubeSat integration experience for its advertising project, which will include a pixelated display screen on one side for advertising.
SpaceX's Falcon 9 rocket will launch CubeSat into orbit in the first quarter of 2022, on its way to the Moon. Those interested in placing an advertisement on its screen must purchase tokens, which may be utilized to create a pixel.
Beta represents the X position, Rhoe represents the Y coordinate, Gamma represents brightness, Kappa represents color, and XI represents time, according to Business Insider. Users will be able to choose the appearance of their advertising pixel, its location on the screen, and the duration of the advertisement using the tokens.
Because pixels are too small to be viewed from Earth or space, the image will be captured by a selfie stick aboard the CubeSat and live-streamed on YouTube or Twitch.
As co-founder Samuel Reid told Business Insider, the tokens may only be purchased with cryptocurrencies such as Ethereum and, in the future, Dogecoin. Reid explained that his company's efforts are aimed at "democratizing access to space and facilitating decentralized involvement," as he put it. The company's interest in Dogecoin, on the other hand, is not quite clear.
GEC's subsidiary, Geometric Space Corporation (GSC), announced their DOGE-1 collaboration with SpaceX in May of this year. The mission entails launching an 88-pound (40 kg) CubeSat into orbit around the Moon, which will use onboard cameras and sensors to collect spatial intelligence.
The project, which is planned to launch in the first quarter of 2022, is fully funded with Dogecoin, paving the way for future space missions to be funded using cryptocurrencies. We've contacted the corporation to learn more about their Dogecoin interest, and we'll update the article whenever we hear back.
The DOGE-1 and the advertising CubeSat will be launched by SpaceX's RideShare Falcon 9 rocket, which specializes in low-cost small satellite launch operations.
Sources:
https://interestingengineering.com/spacex-and-a-canadian-startup-will-turn-space-into-a-billboard
https://www.space.com/spacex-canadian-satellite-film-ads-in-space