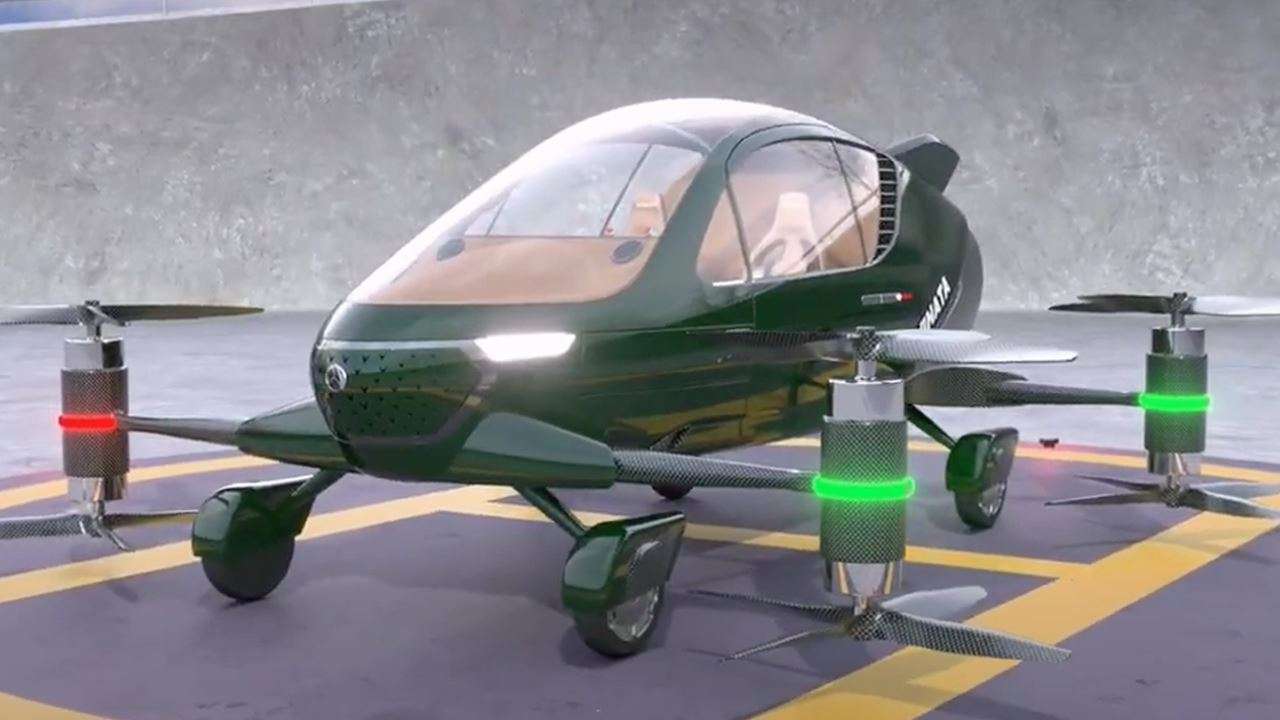 "Vinata Aeromobility hybrid-electric flying car includes an advanced parachute ejection system along with an airbag-equipped cockpit that provides mind-blowing safety for the passengers."
"This new hybrid flying vehicle is 1100kg in weight and can take off with a maximum weight of 1300kg."
With businesses all over the globe rushing to debut their flying vehicles and usher in the next major change in mobility, Vinata Aeromobility, headquartered in Chennai, is hoping to create history. On the 5th of October, the firm will unveil its self-driving hybrid flying vehicle at the world's biggest Helitech Exhibition – Excel in London.
The Made in India two-seater vehicle, which is billed as Asia's first hybrid flying car, runs on biofuel and electricity to reduce its carbon footprint. Vinata Aeromobility was established in India by Yogesh Ramanathan, CEO and Lead Designer, in 2021 to create a completely autonomous hybrid-electric vertical takeoff and land combined plane and road vehicle for Urban Air Mobility (UAM). Investors are presently being sought by the business. Quad-configuration vertical takeoff and landing technology, quadcopters, unmanned aircraft, automotive engineering, hybrid systems, aviation, aerospace, urban air mobility, transportation, and logistics are all areas of competence for the business.
The Vinata Aeromobility flying car is indeed a quad-copter hybrid-electric vertical takeoff and landing aircraft with four road wheels that can carry two people. The aircraft does have a range of 100 km and a cruising speed of around 100-120 kilometers per hour (62-75 mph) (62 miles). For a better user experience, the aircraft will be equipped with a Machine Intelligence (AI) cockpit. As of July 2021, the vehicle's top speed and range on the road are unknown. According to the business, safety is their first concern. Digital flight-envelope security, return-to-home capabilities, geofencing, soft-landing aid, a complete training package, and an entire aviation ballistic chute system will all be included in the airplane/road vehicle.
Vinata Aeromobility hybrid-electric flying provides onboard entertainment functionality that has spectacular views, is luxurious, and is very affordable. Vinata Aeromobility is a scalable aircraft/road vehicle. Vinata Aeromobility plans to display a flying prototype there at Consumer Electronics Show at CES Vegas, Nevada, in 2022 (CES 2022). The firm anticipates the flight to be available for commercial usage by 2023, per an August 2021 report.
Specifications:
Type of aircraft: Hybrid-electric VTOL and road vehicle
Autonomous AI cockpit for piloting
Passenger capacity: 2
Speed limit: 100-120 kilometers per hour (62-75 mph)
100 km range (62 miles)
Maximum elevation: 914 meters (3,000 ft.)
Number of propellers: 4
Electric Motors: There are eight electric motors in all (ground wheels are supported by 4 electric motors & propellers constitute other 4 motors)
Power source: Lithium-ion batteries and a hybrid-electric power source
Carbon fiber composite fuselage
Windows: More spacious windows. A substantial canopy just above the passenger area allows for excellent views to the front, left, and right.
V-tail is a kind of tail.
Landing mechanism: 4 fixed-wheeled landing gears that could be utilized for landing on the road.
Safety Mechanisms: Distributed Electric Propulsion (DEP) ensures passenger and/or cargo safety via redundancy. DEP refers to an aircraft's numerous propellers and motors, such that if any of the motors or propellers malfunctions, the remaining functioning motors, as well as propellers, could effectively land the plane. Has a ballistic parachute system for the whole aircraft as well as a return-to-home capability.
The hybrid flying vehicle is 1100kg in weight and can take off with a maximum weight of 1300kg. The flying vehicle is a Hybrid Electric vertical take-off and landing (VTOL) aircraft with a Co-axial quad-rotor rotor layout. In the case of a source power failure, there's standby power that may provide energy to the motor. According to the firm, their flying vehicle is comfortable, has a visually attractive exterior, a GPS tracker, including entertainment while onboarding. A panoramic glass canopy offers a 300-degree view from the flying vehicle.
The hybrid flying vehicle is said to have a 100-kilometer range and a maximum speed of 120 kilometers per hour. The greatest maximum range is 3,000 feet, and the longest flying duration is stated to be 60 minutes. The electric hybrid flying vehicle has an ejection parachute and an airbag-equipped cockpit for safety. The hybrid flying vehicle also employs a Distributed Electric Propulsion (DEP) technology, which ensures passenger safety via redundancy. This implies that the airplane has several propellers and motors, so if one or maybe more motors and propellers collapse, the remaining functioning motors & propellers would safely land the plane.
Vinata Aeromobility was able to realize its flying vehicle ambitions due to angel investor Mohan Paroha, experienced management, IT, & estate businessman located in India and Europe.
Sources –
https://evtol.news/vinata-aeromobility
https://www.republicworld.com/india-news/general-news/scindia-reviews-asias-1st-hybrid-flying-car-model-to-offer-medical-emergency-services.html