During this current scenario, where Covid has created great havoc, vaccines are like rays of hope. The government of India decided to give Approval to vaccines. After the approval of Oxford AstraZeneca in the UK and Britain and many other countries, India finally decides to use this vaccine for emergency cases. 
DCGI of India has approved the Oxford AstraZeneca which is known as Covishield along with many other locally made vaccines in India. AstraZeneca Is cheap, affordable, and easy to mass-produce. This can be stored in the normal refrigeration at 2 degrees Celsius to 8 degrees Celsius.
COVISHIELD AND COVAXIN VACCINE:
On 3rd January, DCGI has given approval to two Indian vaccines of Covid-19 prepared by Serum & Bharat Biotech. These vaccines are approved for restricted use in the country, only in emergency cases. The Serum Institute of India has manufactured Covishield, the Indian variant of the AZD1222 vaccine which is the Oxford AstraZeneca. This has stockpiled 80 million doses. 
The vaccine approved by Hyderabad-based Bharat Biotech in collaboration with the Indian Council of Medical Research (ICMR)is named Covaxin. This vaccine will take a few days to be available for use. The mass vaccination of these vaccines will start within a week.
MODERNA, PFIZER/ BIOTECH AND ASTRAZENECA: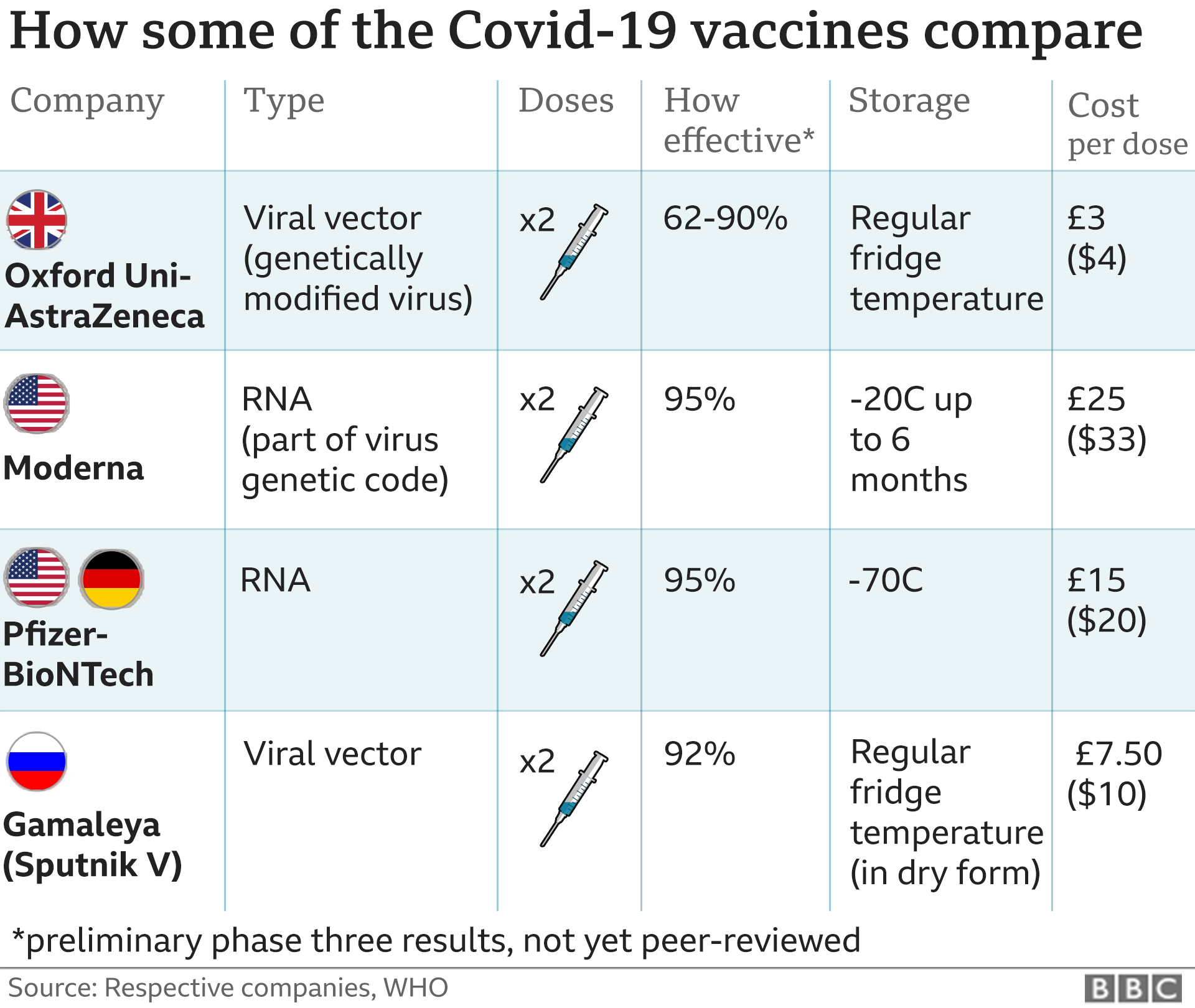 The Moderna vaccine does not need a negative temperature to be stored. It can be stored at the normal refrigeration temperature. This vaccine needs four weeks or 28 days after the first dose. Moderna will be available for people 18 and above. These vaccines can be kept in small clinics where not much refrigeration is available. This gives 90 to 94% efficiency.
US drugmaker Pfizer has released the Pfizer vaccines to treat covid-19. This vaccine has to be stored at very low temperatures at -70 degrees centigrade. It is seen that 90% efficiency is given by this vaccine from preventing Infection. It is a big challenge for a large part of a country to maintain a cold chain for this vaccine. This vaccine needs booster shots three weeks or 21 days after the first. Pfizer can be used for people of ages16 or older.
Both vaccines are prepared using mRNA technology. UK, Japan and European countries have mostly dealt with these vaccines. Two doses are required for both the vaccines. Both vaccines have to be used within 5 to 6 hours after refrigeration.
Oxford AstraZeneca shows 70% efficiency as an initial result. Though it has less efficiency, it can be circulated to every corner of the world because it is cheap and easy to store.
The life of people will become close to normal after the introduction of these vaccines. Even after the vaccination, the whole process might take the whole year 2021 to normalize the situation. However, this news of vaccines has shown a great light in the darkness. These vaccines have great potential and are all set to give positive results. However, more and more operations are still going into the vaccines to improve it more.
Sources:
https://www.bbc.com/news/world-asia-india-55520658
https://timesofindia.indiatimes.com/life-style/health-fitness/health-news/coronavirus-vaccine-pfizer-vs-moderna-vs-astrazeneca-which-is-the-better-covid-19-vaccine-right-now/photostory/79762778.cms